GAme Show - Team Building /
work force Training / Employee appreciation
The Game On! Game Show mission: to help Event Organizers, Meeting Planners and Executive Assistants bring an exciting, refreshing and memorable interactive experience to any corporate, social and/or private event. Game On! the "ultimate icebreakers" where we encourage people of all ages, nationalities, and cultures to come together with the Game Show experience!We are the premier event producers that offer reasonably priced customized entertainment packages to fit almost all kinds of event budgets. Our most popular packages comes complete with a professional high energy Host/Emcee, Sound / Light Engineer, DJ Our combination of team play and onstage game show podiums and buzzers provide large group interaction and Game Show experience!
We serve as your very own professional game show hosts, and your folks serve as both contestants and the audience. The Game On Game Show is a great way to have your group get to know each other, showcase certain members of your organization, or just to have a great time with lots of laughs

CORPORATE AND PRIVATE EVENTS

GET THE GAME SHOW EXPERIENCE


Fully-Customized Live Trivia Events great for :

• New, Loyal & Prospective Client Entertainment

• Employee Team Building

• Corporate Retreat & Party Entertainment

• Summer Associate & Intern Entertainment

• Brand Awareness, Experiential Marketing & Audience Engagement

• Fund Raising

• Birthday, Bachelorette or Other Private Parties

Your Host keeps the energy, fun, tension, and excitement going with Solo and Team play, Big screen video questions, music n' movie audio clues, and interactive challenges.
At most of our shows, we host a series of five or six games, and we customize each game show for our client. In addition to general knowledge questions, we incorporate your graphics and information about your organization.

Game On Game Show has been successful for years because we have one focus: people. Above all, we consider ourselves in the people business and we do everything possible to treat your people like family, as we realize how valuable they are to your organization.
We create THE GAME SHOW EXPERIENCE, making great memories and impressions! ​
Along with entertaining categories, we know that the presentation of the evening's trivia is equally important. We created the Game On presentation program to display each question and enjoyable photos and graphics to make the evening a multi-media event. To add to the variety, we make sure there are both audio and visual categories, general trivia, fun yet safe physical chalanges that will appeal to a large group of players representing all age groups.Game On guarantees we'll provide first-class, personalized service for your next event, within your budget. As such, the initial step upon arranging your event with us is to schedule a comprehensive customization and logistics meeting, held at your convenience, in order to discuss every aspect of your event from start to finish.Next, we will create a unique set of trivia questions for your event based on our customization meeting, which you will have the option of reviewing in advance if you choose. In the days leading up to the event date, we will provide you with a detailed event outline and timeline for your convenience.Standard trivia events typically last 1-2 hours. However, event times may be lengthened or shortened based on your needs.Number of rounds, variety of themes and individual questions are fully customized based on your request. Pens and answer sheets are provided – technical requirements and setup time are minimal.While there is no minimum or maximum number of event participants, groups are generally divided into teams of 3-8 players for an optimal collaborative experience, for team play. A great option for conventions and out door events is the Game On road show where we captivate foot traffic and passerbys to build a captive and entertained audience.
Learn how we can create an event for your group!
WWW.GAMEONGAMESHOW.COM
Some Of Our Amazing Game Show clients

---
some of our amazing hosts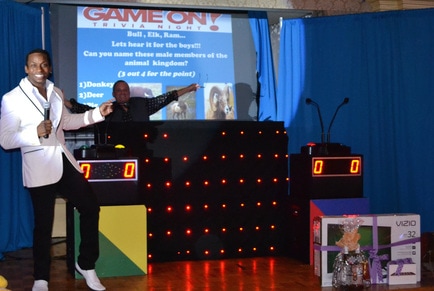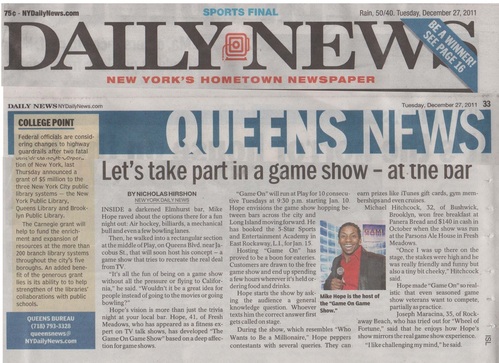 Game shows are one of biggest segments of television entertainment with millions of viewers weekly. Most people would love to be on the actual show but the sheer size of the contestant pool, the waiting list, travel and the audition process make it too difficult . With Game On Trivia the show comes to YOU!

Like us on Facebook and get access free weekly answer. yes the answer .. you just have to figure out the right question , Doh !!!
CALL US
( 917) 304-5249
---